1)Haozhi's ultra-precision DDR table only needs 0.15s to rotate products and 0.8s to rotate worm gears, which effectively shortens the program time, greatly shortens the production cycle, and improves production efficiency. The comparison of 90° indexing time of different types of rotary table is as follows:
Table Type

Worm Gear

Roller Cam

Haozhi

Precision Type

Haozhi

Ultra-precision Type

Indexing time [s]

0.8

0.45

0.2

0.15
2)Haozhi independently develops the high-torque motor, which increases the power density by 42.7% and torque by 63% compared with the common motors. It ensures the smooth and non-jitter operation of heavy cutting and fast light cutting, and greatly improves the processing efficiency.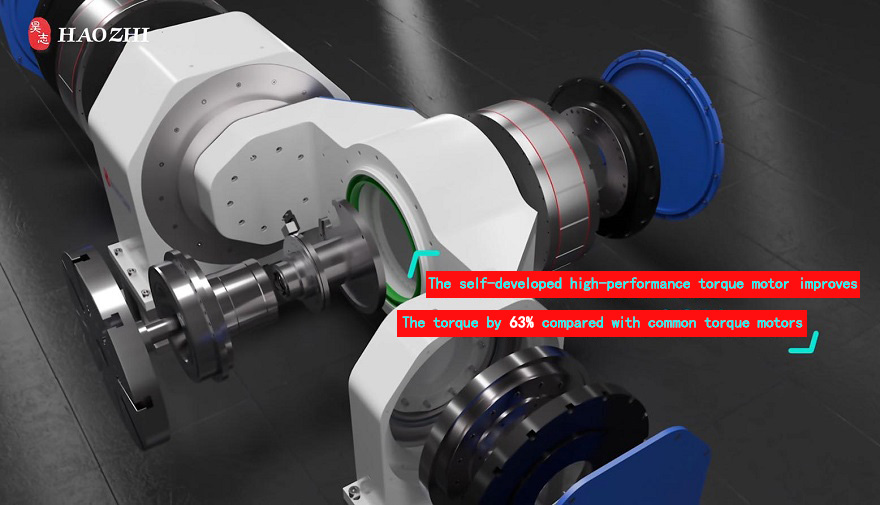 3)High clamping force: The innovative clamping mechanism can brake reliably and stably, which increases the response speed by 10 times and clamping rigidity by 3 times. With high-rigidity shaft + high-rigidity clamping mechanism, the braking rigidity is far greater than the meshing rigidity of the worm gear, which can be processed with a large amount of cutting, greatly improving the processing efficiency of polyhedral parts.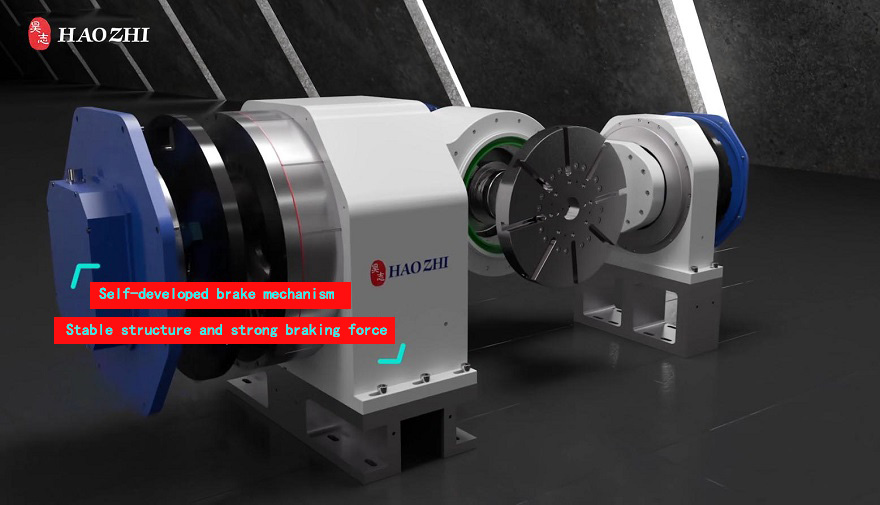 DDR table uses ultra-precision absolute encoder, with the positioning precision ≤±3", repeated positioning accuracy ≤±1", enjoying precise control and high processing precision. However, the repeated positioning precision of common external drive rotary tables is only 10". Besides, the DDR table has zero backlash, which can ensure high surface quality.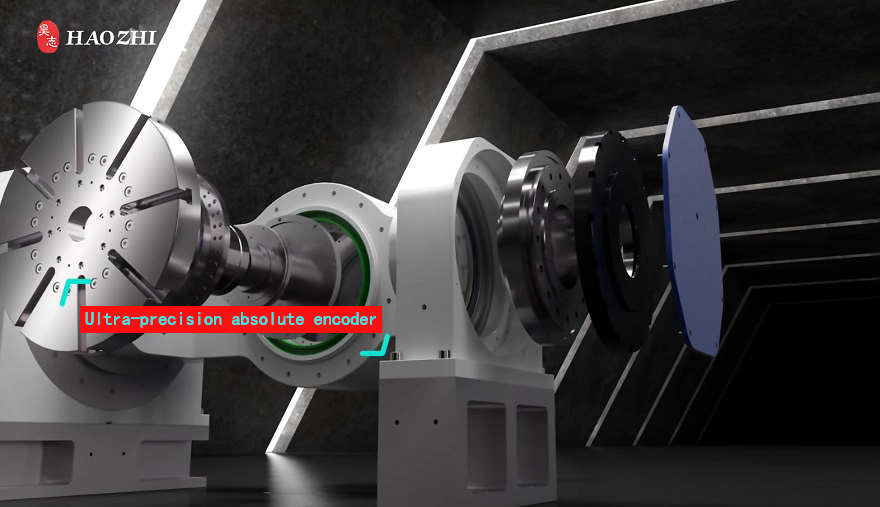 1)The high-rigidity clamping mechanism ensures the stability of polyhedral parts during processing, avoids the surface anomalies such as vibration knife marks, and guarantee the stable and reliable processing of important mating surfaces.
2)Power-off self-locking function: Sudden power-off conditions are not prone to impact events, and the rotation angle of A/C axis is ≤10°. It also has normal self-locking function. Haozhi's innovative five-axis rotary table for the clamping mechanism can automatically lock A/C axis in extreme conditions (e.g. abnormal power off of the machine tool), to prevent impact events during processing.
3)Adequate structural simulation optimization, all-round experimental testing, and client application verification of more than 10,000 DDR tables can ensure stable and reliable quality.
DDR table has no backlash and zero-wear transmission and is maintenance-free, eliminating the trouble of regular maintenance of traditional worm gears and reducing maintenance costs.