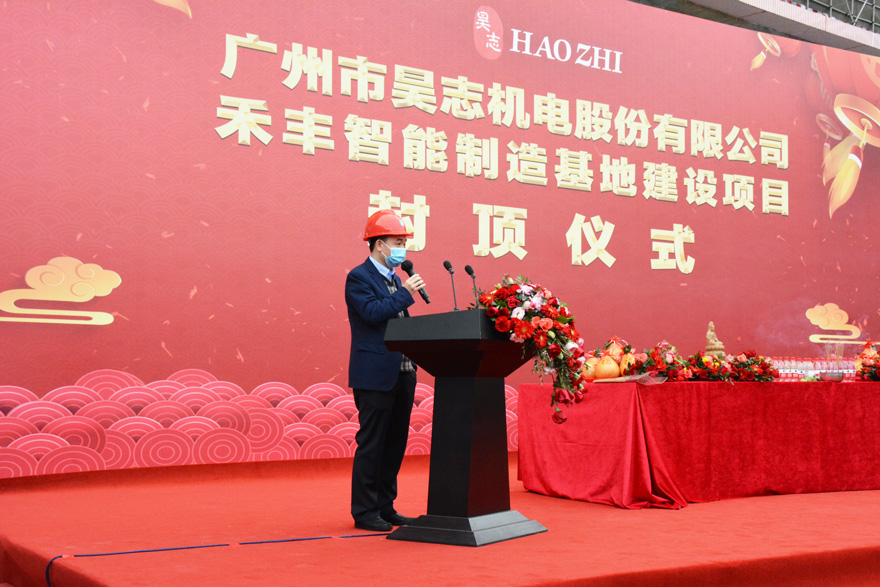 Mr. Lei Qun, Deputy General Manager of Haozhi Electromechanical, delivers a speech
Then Mr. Lei Qun, Deputy General Manager of Haozhi Electromechanical, delivered a speech. Mr. Lei said Haozhi Electromechanical entered the spindle field in 2002. Its revenue exceeded 100 million yuan in 2010, and exceeded 660 million yuan in the third quarter of 2020. Today, the project building of Hefeng Intelligent Manufacturing Base has finished roof-sealing. From PCB drilling and spare parts of the motor spindle to the whole spindle, and then to the fields of machining central spindle, turntable, linear motor, and reducer, each step is a milestone in the development of Haozhi Electromechanical.
The company's R&D investment in the past three years accounted for more than 10% of its operating income, has a senior R&D team of more than 240 people, and has authorized more than 490 patents. At present, some products have completely replaced imports, solving the situation that the core functional components of the national high-end assembly spindle are restricted by others. The construction of Hefeng Intelligent Manufacturing Base provides more space for technological innovation. The capping of the Hefeng Intelligent Manufacturing Base project building indicates that the company will reach a new milestone. In the future, Haozhi Electromechanical will continue to increase its investment in innovation and improve the core competitiveness of its products. Hope the company will achieve the goal of 10 billion yuan as soon as possible!