Ensure the universality of PCB drilling machine. The processing shaft shall satisfy not only the performance requirements of "large bearing capacity, large torsion and high speed" but also the requirements of "low temperature rise and fast startup/stop speed" on the basis of ensuring both stability and processing efficiency. The shaft of our PCB air bearing drilling machine could be faster than any other ones to satisfy the processing demands of one machine with multiple purposes and enhance the overall efficiency by above 23%.
Key factor 1 of PCB drilling machine's processing performance: High axial bearing capacity.
In comparison to a majority of shafts available on the market, the shaft of our PCB drilling machine could enhance the bearing capacity by 15% thanks to its new axial bearing structure.
Key factor 2 of PCB drilling machine's processing performance: Fast startup/stop speed.
The startup/stop time of general shaft of PCB drilling machine is 10-12s but the speed rising time of our shaft is 3.8s within 0-200,000rpm and 7.5s within 0-250,000rpm only with a slippage rate lower than 3%, due to the brand new duplex winding motor. Thanks to the performance above, the processing efficiency could be improved by 3% and the efficiency for processing holes below 0.2mm is improved by above 20%.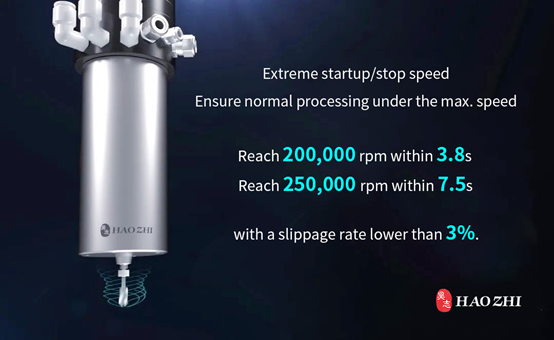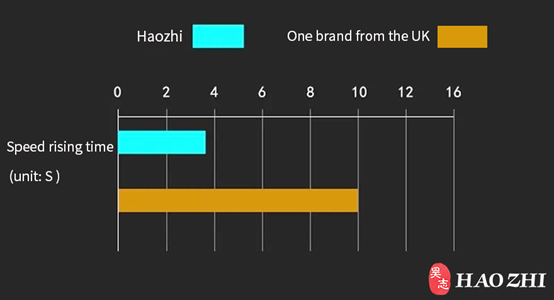 Time comparison of drilling machine shaft reaching 200,000 rpm according to the company's internal test
Key factor 3 of PCB drilling machine's processing performance: Low-speed large torsion
The shaft stator of our PCB drilling machine is of brand new duplex winding structure. The low-speed torque could reach 0.16N.m. 6.35mm tool can be used for processing more than 10,000 holes continuously (S20000, F0.3, R5.0, 3*1.6mm, FR4) so it can satisfy the processing demands of different kinds of thick and hard boards.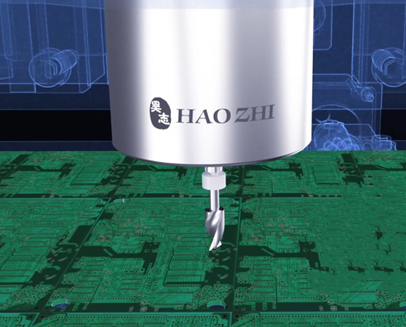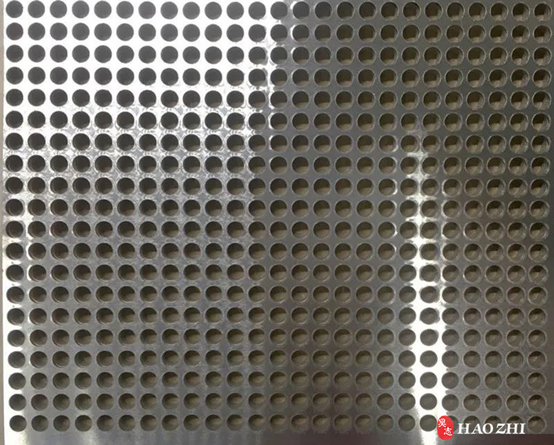 Processing effect and comparison of continuous drilling with 6.35mm tool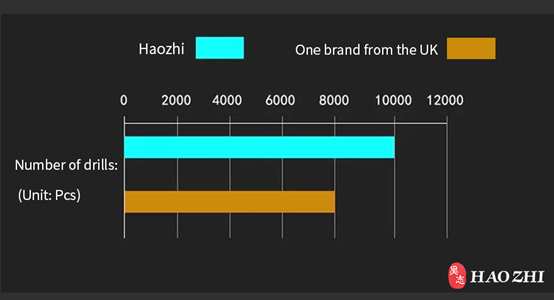 Key factor 4 of PCB drilling machine's processing performance: Low temperature rise
Water channel has also been upgraded to intensify cooling effect and take away more heats. The temperature difference of water inlet and outlet is smaller than 4℃ (the value of rivals' shafts on the market is 8℃), so as to reduce the temperature of surface and axis, improve shaft stability and enhance shaft service life. As for the precision of small hole drilling, under the same parameters, CPK of our shaft drilling is 0.35 higher than that of rivals' shaft for BGA dense hole (φ0.1) and is 0.2 higher than rivals' shaft drilling for multi-layer board (φ0.25).
In 2004, we developed the first shaft of air bearing drilling machine independently after 17 years of theoretical research and practice in air bearing shaft and by breaking through technical and theoretical bottlenecks of speed, processing technique and motor production.
We have developed electromechanical shafts of PCB drilling machine with different speeds, the max. value of which could reach 400,000rpm, a world's leading level.