On January 6, 2020, Guangzhou Haozhi Industrial Co., Ltd. (hereinafter referred to as "Haozhi Industrial" or "the company") held a delivery and signing ceremony for the M&A of Infranor Group in Switzerland. Mr. Tang Xiuqing, General Manager, Mr. Lei Qun, Deputy General Manager, Mr. Xiao Yonglin, Deputy General Manager and Mr. Huang Tenghui, Investment Manager of Haozhi Industrial and the delegation of Nicolas Eichenberger, Chairman of the counter party Perrot Duval Holding SA attended the delivery ceremony.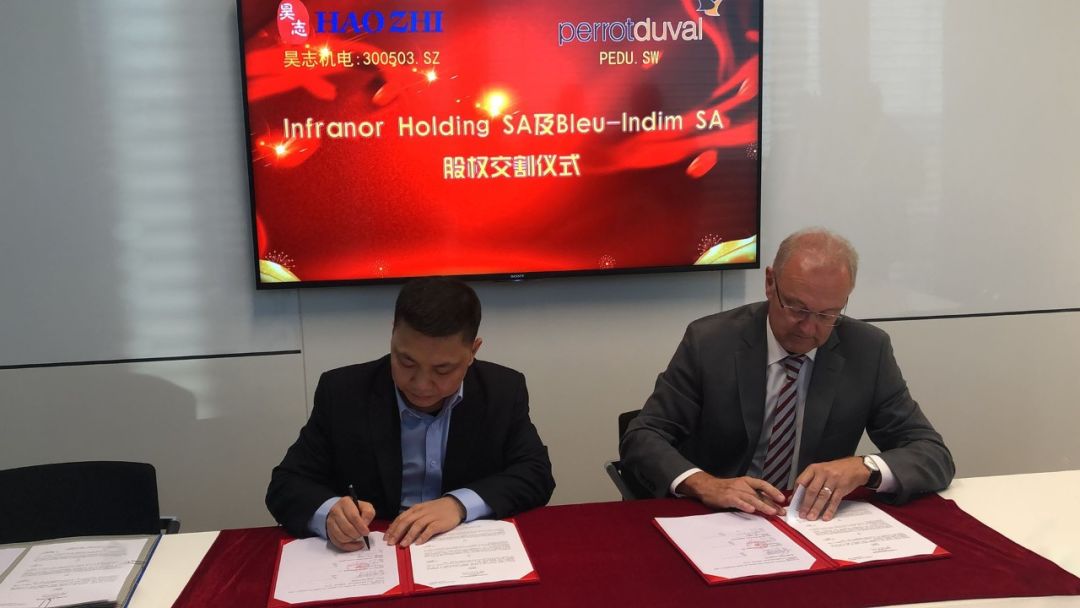 Mr. Tang Xiuqing, General Manager of Haozhi Industrial (Left) and Mr. Perrot Duval Holding SA Chairman of Nicolas Eichenberger (Right) are signing on the confirmation.
Haozhi Industrial is an environmental protection high-tech enterprise specialized in R&D, manufacturing, sales and maintenance services for core functional parts of high-precision mechatronics. The company was listed on the GEM of the Shenzhen Stock Exchange in March 2016. The company's business mainly covers three parts: core functional parts of CNC machine tools and industrial robots, in addition to direct drive high speed fans, including spindle, turntable, robot reducer, linear motor, hydrogen energy battery products, as well as fuel cell compressor and aeration blower of energy conservation and environmental protection industry.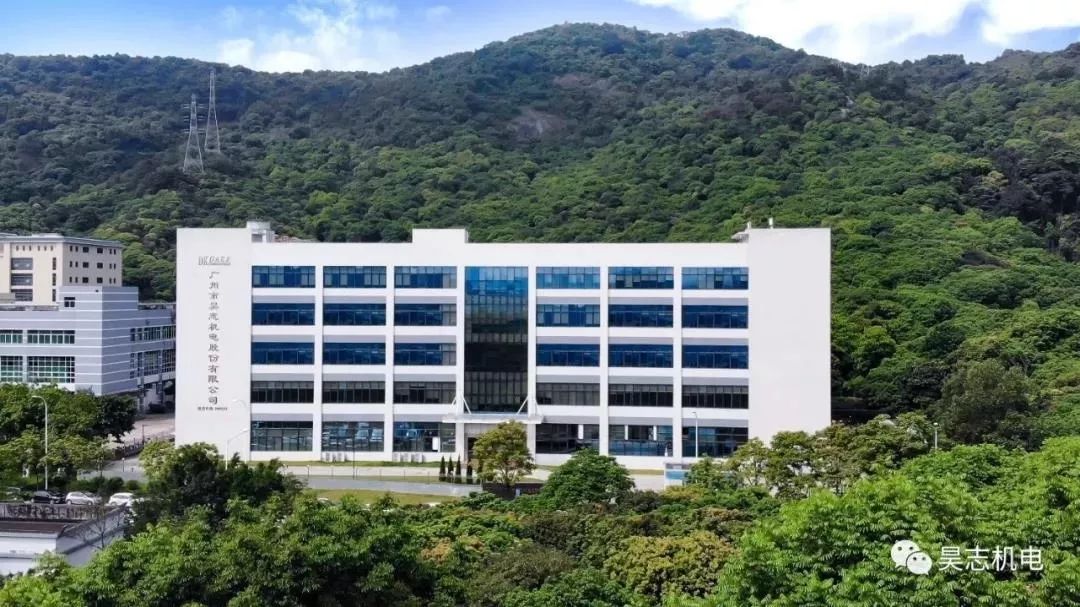 Haozhi Industrial
Infranor Group, founded in 1941, is a well-known provider of industrial automation solutions in Europe. The group has 11 subsidiaries in Switzerland, Germany, France, Britain, Spain, Italy, America and China, among which the Spanish mavilor is mainly engaged in the R&D and production of servo motors, the French Infranor is mainly engaged in the R&D and production of drives, the Swiss Cybelec is mainly engaged in the R&D and production of control systems, and other subsidiaries are mainly engaged in sales, technical support and after-sales of motion control related products; Furthermore, Infranor Group also has partners in major markets around the world.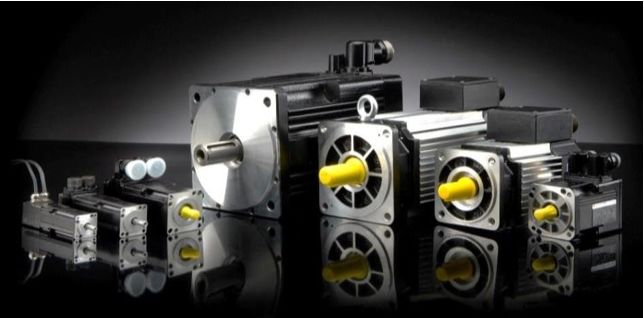 Infranor Group Products
Infranor Group has been focusing on the field of industrial automation since 1959 and becomes the well-known European supplier of industrial automation drive and control system equipment with more than 78 years of experience in the motion control industry, concentrating on providing customers with high-quality CNC system, servo motor, servo driver and other motion control products and solutions.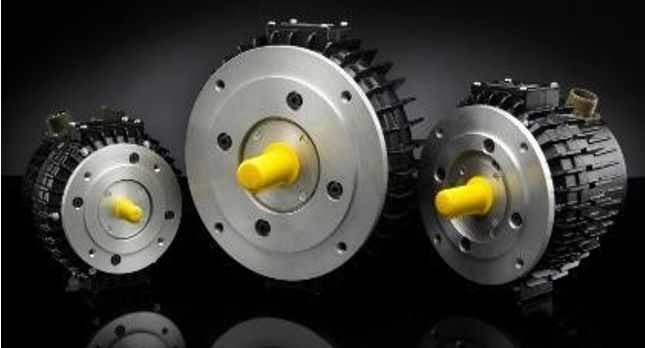 Infranor Group Products
Infranor Group can provide customers with standardized products from core functional components to complete motion control systems, also it can provide customers with customized motion control products and integrated motion control solutions. With mature technology, perfect R&D system, perfect sales and technical service network, and rich industry applications, it has accumulated many first-class industrial enterprise customers in global market, such as Siemens, Bosch, ABB, Coca-Cola, Rolex, KUKA, Citroen, etc., and has established a good brand advantage and market reputation with strong market competitiveness. The motion control products of Infranor Group mainly include: all series of precision servo motors and drives, precision AC servo motors, high dynamic ultra-precision servo motors, disc AC servo motors, low-voltage brushless servo motors, vacuum servo motors, all stainless steel waterproof servo motors, hollow axis servo motors, disc DC servo motors, linear motors, multi axis control systems and all kinds of servo drive, which are widely used in production, packaging, robotics, medical equipment, chemistry, textile, pharmaceutical, communications, printing, food, plastic, paper and other fields.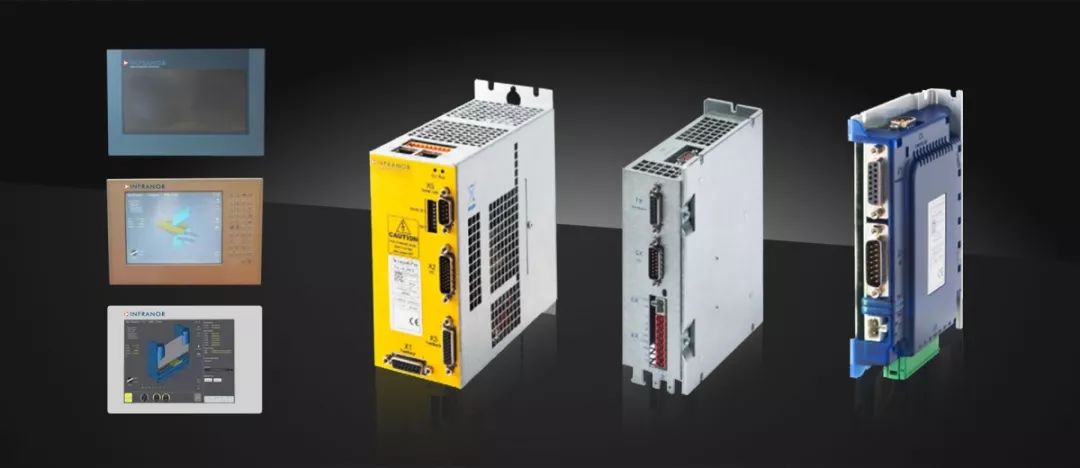 Infranor Group Products
The M&A of Infranor Group is a strategic step in the history of Haozhi Industrial development, which marks a breakthrough in the internationalization of Haozhi industrial. Through this M&A, Haozhi Industrial has the world's advanced technology, experience, brand, team and marketing channels, which provides strong support for the company's major business segments. In the future, Haozhi Industrial will make full use of Infranor Group's advanced technology and experience in the fields of motors and promotes the company's R&D and performance upgrade of spindles, turntables, harmonic reducers, linear motors, drives, motors, sensors, and other products; Through systematic R&D and effective combination with the Infranor Group's motion control products, enhance the service ability of the company to provide a package of functional parts products and personalized solutions to equipment manufacturers, and advance the core competitiveness of the company's business; Moreover, the company will accelerate the business development of its products in overseas markets with the help of its global marketing network, rich customer accumulation and good market reputation. Continue to move forward to the vision of "becoming the world's top equipment core functional component design and manufacturing company", and aspire to be the benchmark of China's intelligent manufacturing in the field of core functional components of high-precision mechatronics; Promote the progress, transformation and upgrading of China's industrial technology.

Picture of Mr. Tang Xiuqing, General Manager of Haozhi Industrial (Left) andMr. Perrot Duval Holding SA Chairman of Nicolas Eichenberger (Right)